Sunon Wins Two German Design Awards 2022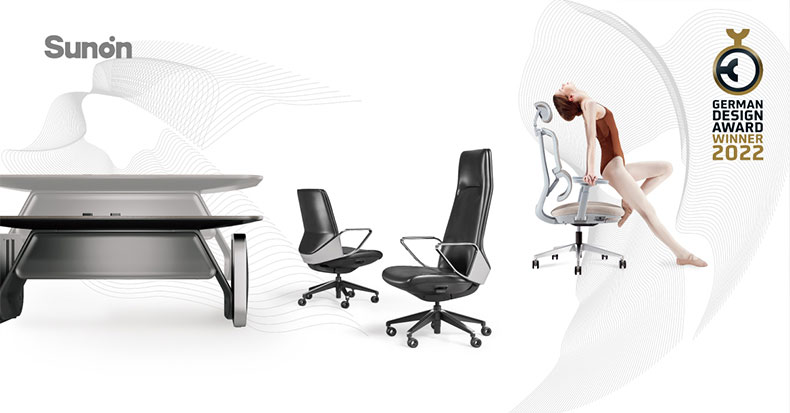 We are feeling honored having received two awards for outstanding design achievement in the tenth edition of the German Design Awards. Our products H2 chair and Atlas have been chosen as "Winners" for excellent product design in the office furniture category. We are thankful to the German Design Council and the jury for this recognition. This award is a validation of our commitment to innovation and our continuous endeavor to design and create sustainable and functional products.
Atlas
Atlas comprises an executive desk and a leather chair providing high-tech and comfortable executive office furniture. Designed by German design firm Form and Branch, Atlas is inspired by nature and brings in a futuristic intelligent space. The desk's height can be adjusted by hand gesture with the help of the 3D hand gesture sensing modules. During the desk lifting, there is a more accurate digital display using our patented technology, the Wooden Display. It also comes with wireless charging, an electric track, an intelligent fingerprint lock, and smart storage.
Clad in Nappa leather, the Atlas chair strikes a perfect balance between luxury and comfort. The chair adopts an ergonomic curving and a three-level density foam (soft-medium-hard) to achieve proper distribution of pressure.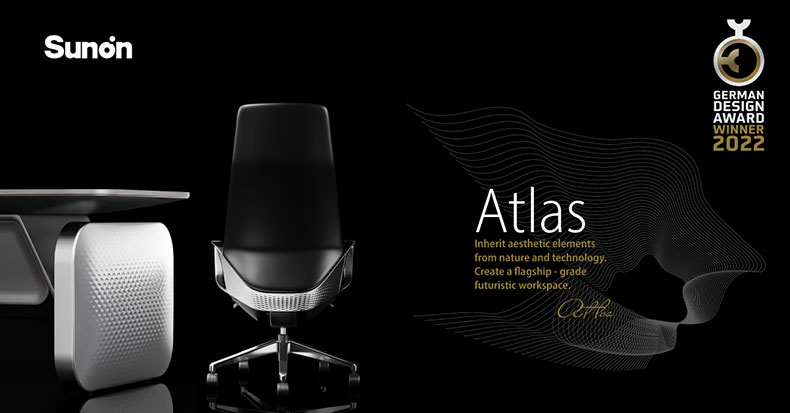 H2
H2 is a dual-back ergonomic chair that sets eyes on healthy sitting postures and integrates the bridge posture from Yoga into its design. Its 3D dynamic back-fitting lumbar support, patented 8-level adjustment, ensures healthy sitting by making sure your pelvis and spine are in healthy condition to relieve fatigue caused by long-time sitting. The pioneering 3D dynamic dual-backs help to maintain the spine's natural curvature, thus realizing the balance of comfort and personalized ergonomics in one sophisticated design.
Besides, the all-around adjustments of height, headrest, armrest, tilt and swing help users to better adapt to different scenarios and embrace a healthy work style. The health-positive design helps to improve the quality of daily life at the most fundamental level.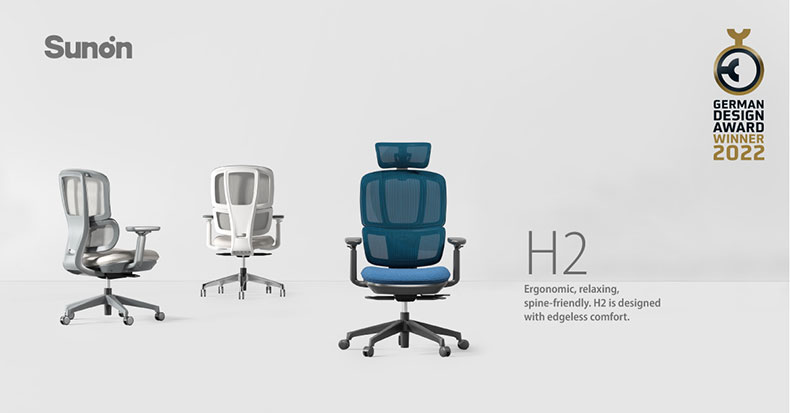 About German Design Awards
The German Design Council is the German centre of excellence for design, branding and innovation. The German Design Awards are the German Design Council's most important prize and among the most recognised international design awards. Since 2012, they have invited entries to discover, showcase and recognise unique design trends. A top-class international jury evaluates these ground-breaking design achievements and awards pioneering products and projects stand out in the categories of "Excellent Product Design", "Excellent Communications Design" and "Excellent Architecture".